Human Rights
Statistics Show Turkey's 'Safe Zone' is an Existential Threat to Religious Minorities
Turkey's proposed 'safe zone' in northeast Syria is an existential threat to the region's remaining Yezidi and Syriac communities, with two of the three Yezidi population centers and five of the six Syriac population centers left in the area found in territory that Turkey threatens to occupy.
Turkey's track record in Afrin and Ras al-Ain shows that religious minorities like Yezidis and Syriacs are unable to live safely in regions under its control. Until all Turkish and Turkish-backed entities and individuals involved in abuses against ethnic and religious minorities withdraw from Syria and Turkey abandons its territorial ambitions in the country, the communities remaining in the claimed 'safe zone' will continue to face the possibility of war, displacement, and serious human rights violations—itself a serious form of psychological harm.
Turkey's 'Safe Zone' Remains a Threat
In September 2019, Turkish president Recep Tayyip Erdogan declared that his country would seek to establish a 30-kilometer-deep safe zone on Syrian territory in order to remove the Syrian Democratic Forces (SDF) and Autonomous Administration of North and East Syria (AANES) from the area and resettle over a million Syrian refugees there. Turkey invaded Ras al-Ain and Tal Abyad shortly after, but was forced to halt its offensive operations by U.S. and Russian pressure.
International diplomacy has prevented a third Turkish ground offensive to date. However, Turkey continues to violate the October 2019 ceasefire agreements—and Erdogan has never walked back the 'safe zone' plan. By contrast, Turkish leaders have reiterated that they will keep troops in Syria and have promised large-scale deportations of Syrian refugees. Artillery, air, and drone attacks on civilians, civilian infrastructure, and AANES and SDF personnel in cities and towns close to the Turkish border are common. The prospect of ground intervention against this region thus remains a real threat.
RELIGIOUS MINORITIES UNDER TURKISH OCCUPATION
Two previous Turkish interventions in regions of northern Syria with significant ethnic and religious minority populations saw the near-complete removal of Syriacs and Yezidis from the impacted areas. Religious minority communities were already a fraction of their pre-war size, a sobering testament to the impact of twelve years of war and on peoples who have called modern-day Syria home for millennia.
Dr. Thomas Schmidinger, an expert on northeast Syria who has published two books based on extensive fieldwork in the region, estimates that just 2,000 Yezidis may be left in the country today. Data from the Qamishli-based Syriac Center for Strategic Research indicates that all regions home to Syriacs and other Christian communities have lost the majority of their Christian inhabitants since the Syrian war began.
Turkey's military interventions, however, accelerated this process of displacement and brought about explicitly religiously-motivated violence not seen in northeast Syria since ISIS was defeated.
In 2018, Turkey's Operation Olive Branch resulted in Turkish and Syrian National Army (SNA) control of Afrin, once home to Syria's largest Yezidi community. All 23 Yezidi villages in the region are currently controlled by Turkey and the SNA. An estimated 90% of the region's pre-invasion Yezidi population has fled. Several Yezidi religious and cultural sites have been defaced or destroyed. Yezidis have been abducted for ransom by SNA groups, tortured, and pressured to renounce their religion. SNA factions have incorporated members of ISIS, including perpetrators of genocide against Yezidis and Christians, into their ranks; some missing Yezidis are known or suspected to be present in Afrin with their captors.
In 2019, Turkey's Operation Peace Spring resulted in Turkish and SNA control of Ras al-Ain and Tal Abyad. 16 Yezidi villages south of Ras al-Ain were impacted; according to Schmidinger their residents fled. At least 20 Syriac villages came under Turkish control. The city of Ras al-Ain itself was home to Yezidis and Syriacs, as well as Kurds, Arabs, Armenians, Assyrians, and others. This month, Syriac Press reported that just 7 Christians remain in Ras al-Ain today, and that all Yezidis have fled, citing data from the Ta'awur Association for Victims and the Committee for the Displaced People of Ras al-Ain.
Religious minorities living  near the occupied areas were also impacted by Operation Peace Spring: for example, 99 families were displaced from the villages around Al-Qahtaniyah / Tirbe Spî /  Qabre Hewore that the Syriac Center for Strategic Research identified as having significant Christian populations. Dozens more were displaced from Christian villages around Derik. The Assyrian villages of Tal Tamr are now on the front line between Turkey and the SNA and the Autonomous Administration; Syriac, Assyrian and Armenian groups have joined their Kurdish and Arab counterparts in defending the area.
six regions of northeast syria home to nearly all remaining yezidis, syriacs at risk
Six regions of northeast Syria currently under SDF/AANES control that fall within Turkey's prospective 'safe zone' are home to significant Syriac and/or Yezidi communities.
Data on population centers for Syriacs and other Christian communities was provided to the Kurdish Peace Institute by the Syriac Center for Strategic Research. Data on Yezidi population centers was provided by Dr. Thomas Schmidinger.
Al-Malikiyah / Derik / Dayrik (approximately 17 kilometers from the Turkish border): The city of Al-Malikiyah / Derik / Dayrik and 15 other towns and villages— Qazarjab, Kani Metrbe, Barabaita, Sarmesrakh, Garzark, Qasrok, Khanik, Gere Kara, Hnewyie, Tarbakayie, Hakamyie, Ain Diwar, Perreke Swedike, and Hayaka—are home to significant Syriac populations. After October 2019, about 600 Syriac Orthodox families and 75 Chaldean families remained in this area.
Al-Qahtaniyah / Tirbe Spî /  Qabre Hewore (approximately 6 kilometers south of the Turkish border): The city of Al-Qahtaniyah/Tirbe Spî/Qabre Hewore and nine other towns and villages—Khwetla, Tal Sheir, Malla Abbas, Mharkan, Khwetla Amro, Zorava, Gersheran, Rutan, Tal Jehan, Shalhumiye—have significant Syriac populations. After October 2019, there were about 130 Syriac families in this area. There are eight Yezidi villages north of Al-Qahtaniyah/Tirbe Spî/Qabre Hewore, directly adjacent to the Turkish border. About 39 Yezidi families were present there in 2020, predominantly in three of the eight villages: Til Xatûn, Alareş and Otilca.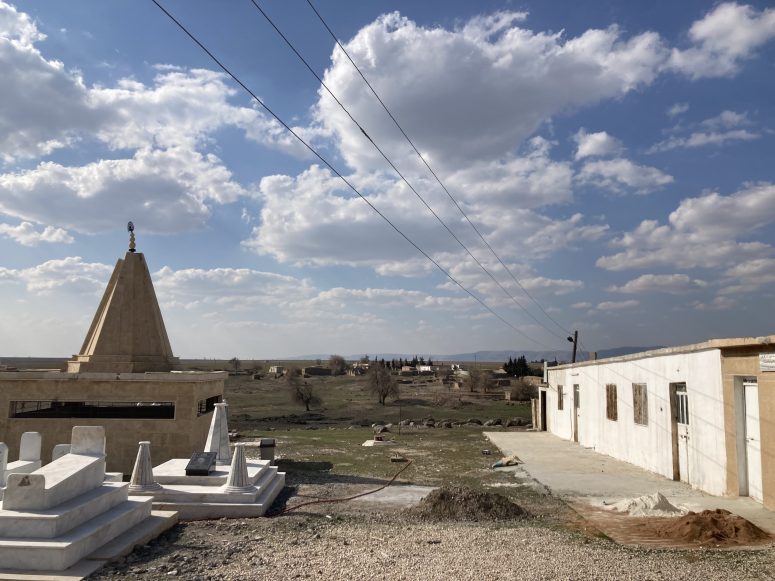 Rmelan / Rimêlan (about 16 kilometers south of the Turkish border): Nine towns and villages—Baiaze Zagire, Baiaze Kabire, Gharduka, Qasrok, Tal A'lo, Gelaa'a, Sleman Sari, Al-Tash, and Tal Kojar—have significant Syriac populations. After October 2019, there were just three Syriac families remaining in Qasrok. Residents of these villages have largely moved to Qamishli / Qamişlo / Zalin and return to their villages agriculture and holidays.
Qamishli / Qamişlo / Zalin (directly adjacent to the Turkish border): The city of Qamishli / Qamişlo / Zalin and seven other towns and villages—Himo, Tal Sheir, Tal Fares, Demkhia Gbyire, Demkhia Zgire, Wetwetyie, and Tartab—have significant Syriac and other Christian populations. After October 2019, there were 3,500 Syriac Orthodox families, 250 Chaldean families, 90 Syriac Catholic families, and 25 Assyrian families in this region.
Amuda / Amûdê (directly adjacent to the Turkish border): There are six Syriac Orthodox families around Amuda / Amûdê city who go back to surrounding villages for agriculture and holidays. There are also twelve Yezidi villages around Amuda / Amûdê, of which eight are still inhabited by Yezidis today.
Ad-Darbasiyah / Dirbêsiyê (directly adjacent to the Turkish border): After October 2019, there were about 30 Syriac Orthodox families around Ad-Darbasiyah / Dirbêsiyê. The people return to villages in the area for agriculture and religious prayers and festivals.
In addition to their Yezidi and Syriac communities and their homes and properties, these cities, towns and villages also have many churches, shrines, cemeteries, and other religious and cultural sites. Turkey and Turkey-backed groups have a track record of destroying and desecrating cultural property belonging to ethnic and religious minorities in occupied zones. It is unlikely that this cultural heritage would survive an invasion.
recommendations
In line with the recommendations of the U.S. Commission on International Religious Freedom, the international community should "exert pressure on Turkey to withdraw from all territory that it occupies as a result of cross-border operations into north and east Syria" and "demand that Turkey order armed factions under its control or influence to cease all activities negatively impacting religious and ethnic minorities in Syria."
In the long term, governments should push for a negotiated political solution to Turkey's transnational armed conflicts with Kurdish groups. As Dr. Amy Austin Holmes writes, "the Syrian conflict and creation of the Syrian Democratic Forces (SDF) has fundamentally transformed the Turkish-PKK conflict from one that was previously limited to the Turkish military and Kurdish militants in southeastern Turkey and the Qandil Mountains of Iraq to one that now impacts civilians of every ethnic and religious group across a large region of northern Syria."
In order to guarantee ethnic and religious minorities a future in northeast Syria, Turkish military intervention must be off the table for good. The bipartisan Syria Study Group has recognized that Turkish-Kurdish peace talks "hold the best possibility of leading to a détente between Turkey and the SDF."
A political solution to Turkey's Kurdish conflict could also allow the AANES' political model—which, while imperfect, has already resulted in the best religious freedom conditions in Syria—much-needed space to reform, improve, and grow. Its structures and the political philosophy behind them then could be a model for religious and ethnic pluralism in other parts of the region facing similar challenges–including Turkey itself.
Cover photo taken by author in February 2023.
Conflict Resolution and Peacebuilding